Blocky Moto Racing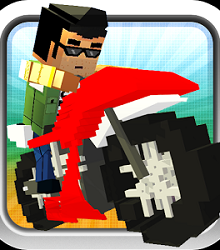 You can play in three game modes. Choose your favourite one and hit the road!
Realistic bike physics will guarantee you a lot of fun. Especially during often crashes!
That's why you need to watch out for other road users. They often change lane without looking in the mirror! Get more skill and avoid explosions!
Funny crash? Share your GIF to your friends on social networks or to us! The most funny GIFs we'll be publishing on our Facebook fanpage!
Download it for free!
AND..
Check this thing out!